I
f you haven't heard, authoring team-Ilona Andrews, has been indulging fans with supplemental free readings to go along with their popular
Kate Daniels
series. These are written in the POV of the very sexy & charismatic Beast Lord-Curran. FYI, there may also be some additional POV readings for the
Fever
series in the future as well. Barron's POV and prequel stories have been rumored.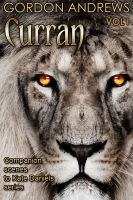 Curran Volume I
Book #1-3
This isn't a short story or a novella. This is a collection of scenes as a companion to the Kate Daniels series. These scenes illustrate the point of view of Curran, the Beast Lord of Atlanta. This collection isn't meant to stand on its own as an independent work of fiction.
These are Magic Bleeds (Book #4) Ending Supplementals. Also in Curran's POV. They will absolutely make more sense if you read Book #4 first. These were not intended to be standalone reads.